Golconda Fort:
Golconda fort is one of the most famous tourist attractions in Hyderabad. this wonderful fort was built in 12th century by Kakatiya kings and then after 200 years lates it came under bahamani rulers and this fort is located 11km away from the city. the main gate of this fort called as Fatesh Darwaja which means victory gate.
This Fort visiting hours are 9 am to 6.30 pm and the entry fee is Rs 15 for Indian citizens and Rs 200 for foreigners. if you want to carry a still camera need to pay extra amount for that and many Special attractions are available in this fort, like sound and light shows etc…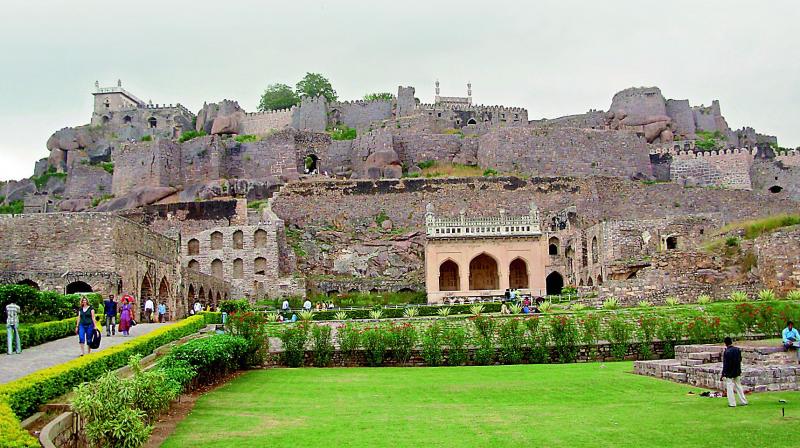 Timings:
9 am to 5.30 pm
Entry Fee:
Rs 15 per person for Indians
Rs 200 per person for Foreign Tourists
Rs 25 for Still Camera
Rs 130 for Sound & Light Show
Attractions at Golconda fort:
Sound & Light Show timings:
1st Show English (All Days)
2nd Show in Telugu on Monday, Wednesday & Friday,
2nd Show in Hindi on Tuesday, Thursday, Saturday & Sunday.
Show Timings (Nov to Feb): 1st Show 6:30 pm 2nd Show 7.45 pm
Show Timings (Mar to Oct): 1st Show 7:00 pm 2nd Show 8.15 pm
Sound & Light Show ticket costs:
Rs 140 per Adult in Executive Class
Rs 120 per Child in Executive Class
Rs 80 per Adult in Normal Class
Rs 60 per Adult in Normal Class
Address:
Ibrahim Bagh, Hyderabad, Telangana, 500008, India
Nearest Bus station:
Mahatma Gandhi Bus Station (MGBS) is the Nearest Bus station (12km)
Nearest Railway station:
Nampally Railway station is the nearest Major Railway station(10km)
Nearest Airport:
Rajiv Gandhi International Airport (27 km)
Nearest tourist Places to Golconda Fort:
Shri Puri Jagannadh temple
Calvary Temple
KBR National park
Birla mandir
Sri Ramakrishna Math
Check the latest Places to visit in Hyderabad with your family or friends and enjoy your day!