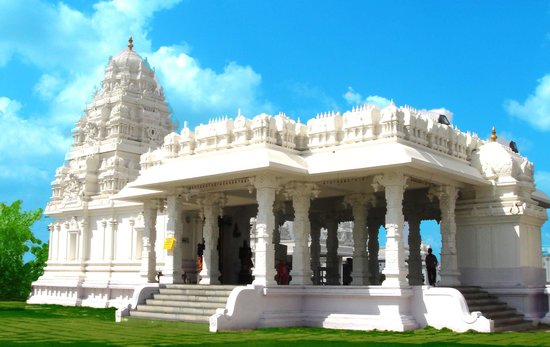 Sanghi Temple in Hyderabad is a well-known temple situated on the hillock known as Paramananda Giri. It is situated in Sanghi Nagar almost 25 Km from Hyderabad. It is one of the finest magnificent and peaceful temple in Hyderabad city outskirts.
The temple opens at 5.00 am in the morning regularly. 'Archana' is carried out to the gods from 6 am to 8 am. Over-all 'darshan' for the disciples is permitted from 8.30 am to 10.30 am and 4 pm to 6 pm. The temple remains shut between 12 am and 4 pm and after 8 pm. The main god of the Sanghi Temple is Lord Venkateswara, who stands at almost 9.6 feet tall. The holy front tower (Raja Gopuram), which is very high, and can be seen from numerous kilometers away.
This temple displays the distinctive South Indian architecture, and the temple complex consists of several noteworthy gods. The Temple was made and managed by the Sanghi Group of Hyderabad.
The estimated driving distance between Sanghi Temple and Chilkur Balaji Temple is 29 km. It takes 34 minutes to travel. Travel time mentions to the time taken if the distance is covered by a car.
Sanghi Temple, located at Sanghi Nagar in Telangana in India, is about 35 km from Hyderabad city. Temple Timings, Entry Ticket Cost,Visiting Hours information is shown below. Its specialty is sacred Raja Gopuram, which is very tall, can be seen from several kilometers away. So many people visit here every day, mostly students show interest to visit it. A huge crowd can be seen during new year and festival times. The temple is not so far from the Hyderabad city, it can be an half day tour with family or friends. The primary deity is Sri Venkateshwara Swamy who is treated as a family god of most of the families in all over India.
Movie makers also prefer this place to shoot films. So many films are shoot here every year. The income of the temple rise year by year in so many ways like through devotees dakshinas, gifts offered by the devotees, income through permissions for the filmmaking and in many more ways.
It is also treated as the biggest tourist place in Hyderabad, so many festivals are celebrated here every year. We can see small temples in the complex dedicated to Padmavati, Shiva, Rama, Anjaneya, Ganesha, Navagrahas, Goddess Ashtalakshimi, Durga and Kartikeya. So we can say that it is the place of all Gods. We get a he-artful feeling blessed with all Gods at the time.
Pavitra Vanam' or "Holy Garden" is a place where we can find the exotic flowers of the Gods. There are different flowers and special leaves for every god for performing rituals. Devotees pray to god with these flowers and feel blessed.
Sanghi Temple Timings:
The Sanghi Temple timings in the morning are from 8 AM to 1 PM and in the evening are from 4 PM to 8 PM every day and on Sunday, festival days and holidays timings are 8 AM to 8 PM and the best time to visit the temple is in the morning/evening.
| | | |
| --- | --- | --- |
| Day | Temple Timings | |
| Monday | 8:00 AM – 1:00 PM | 4:00 PM – 8:00 PM |
| Tuesday | 8:00 AM – 1:00 PM | 4:00 PM – 8:00 PM |
| Wednesday | 8:00 AM – 1:00 PM | 4:00 PM – 8:00 PM |
| Thursday | 8:00 AM – 1:00 PM | 4:00 PM – 8:00 PM |
| Friday | 8:00 AM – 1:00 PM | 4:00 PM – 8:00 PM |
| Saturday | 8:00 AM – 1:00 PM | 4:00 PM – 8:00 PM |
| Sunday & Holidays | 8:00 AM – 8:00 PM | |
Sanghi Temple Address:
Omerkhan daira, Hyderabad, Telangana 501511
Primary deity:
Venkateswara
Bus Timings To Sanghi Temple:
| | | | | | |
| --- | --- | --- | --- | --- | --- |
| Bus/Route  No | Starts At | Final Bus Stop | First Bus Time | Last Bus Time | Frequency |
| 202 | Koti Women's college Bus Stop | Sanghi Nagar | 7:40 AM | 9:40 PM | 00:25 |
| 204S | Koti Womens college Bus Stop | Sanghi Nagar | 7:37 AM | 7:32 PM | 01:15 |
| 277V | Hayath Nagar Bus Stop | Ibrahimpatnam Bus Station | 8:40 AM | 9:00 AM | 01:15 |
| 290S | Secunderabad Station / Junction | Sanghi Nagar | 7:05 AM | 4:15 PM | 01:25 |
| 293S | Koti Womens college Bus Stop | Sanghi Nagar | 6:45 AM | 8:05 PM | 02:25 |
| 299P | Koti Womens college Bus Stop | Sanghi Nagar | 10:25 AM | 8:00 PM | 03:30 |
Bus Timings From Sanghi Temple:
| | | | | | |
| --- | --- | --- | --- | --- | --- |
| Bus/Route  No | Starts At | Final Bus Stop | First Bus Time | Last Bus Time | Frequency |
| 202 | Sanghi Nagar | Koti Womens college Bus Stop | 9:15 AM | 11:00 PM | 00:25 |
| 204S | Sanghi Nagar | Koti Womens college Bus Stop | 8:47 AM | 8:57 PM | 01:15 |
| 277V | Ibrahimpatnam Bus Station | Hayath Nagar Bus Stop | 3:40 PM | 4:20 PM | 01:15 |
| 290S | Sanghi Nagar | Secunderabad Station / Junction | 8:55 AM | 5:05 PM | 01:25 |
| 293S | Sanghi Nagar | Koti Womens college Bus Stop | 8:05 AM | 9:00 PM | 02:25 |
| 299P | Sanghi Nagar | Koti Womens college Bus Stop | 8:10 AM | 7:05 PM | 03:30 |
Sanghi Temple Route Map:
Other Popular Temples in Hyderabad
Birla Mandir Temple, Khairatabad
ISKCON  Temple ,Abids