Hyderabad is one of the popular options amongst Indian and foreign travelers. It is very tough to sort a list of the best places to visit in Hyderabad as there are numerous alternatives available. This city consists of many architectures, arts and history. It is a wonderful city to travel around.
Places to visit near me in Hyderabad
Day 1: You should start with the historical part of Hyderabad.
Salar Jung Museum: This is one of the largest museums in the world. It is situated at Dar-ul-Shifa, on the bank of Musi River. It is an art museum. It opens at 10 am in the morning and closes at 5 pm in the evening. And on Friday it is closed.
This museum is named after Nawab Mir Yusuf Ali Khan Salar Jung III. He was the former Prime Minister of the seventh Nizam of Hyderabad.
Nizam's Museum: This museum is situated in Purani Haveli. This was built by Mohammed Quli Qutb Shah. He was the founder of Hyderabad. There are more than ten buildings in this Haveli and made up of Burma Teak. It opens at 10 am in the morning and closes at 5 pm in the evening. And on Friday it is closed.
Chowmahalla Palace:  This Palace is situated in the old city of Hyderabad, which is near Charminar. It was the official dwelling of the Nizams of Hyderabad.
Charminar: Charminar is a historical place with a mosque. It is located on the east bank of the Musi river.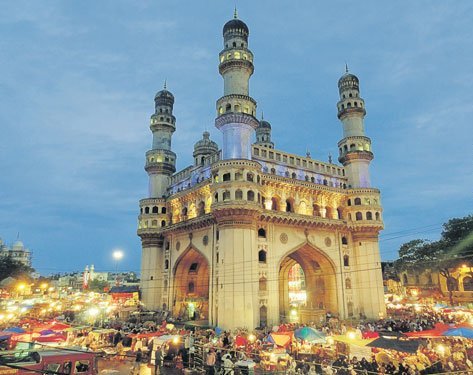 Mecca Masjid: This is one of the ancient mosques in Hyderabad. It is very near to Chowmahalla Palace, Laad Bazaar, and Charminar.
Day 2: The Second day is also based on past and incredible structure, particularly some of Hyderabad's best temples, parks and forts.
Chilkur Balaji Temple: Chilkur Balaji Temple is an antique Hindu temple of Lord Balaji. This temple does not have hundi, it is run on the funds accumulated from the car parking fees.
Golconda Fort: Golkonda Fort was first constructed by the Kakatiyas as part of their western defence protection. There is a show of lights and music for 1 hour daily in the evening that tells the past of the fort in a folktale style.
Qutb Shahi Tombs: The Qutb Shahi Tombs are situated in the Ibrahim Bagh, near to the well-known Golconda Fort in Hyderabad
Birla Mandir: This temple is a mixture of Dravidian, Rajasthani and Utkala architectures. The shrines are Lord Venkateswara, Padmavati and Andal.
Hussain Sagar Lake: This Lake was made by Ibrahim Quli Qutb Shah. It was named after Hussain Shah Wali. A large Buddha statue stands in the middle of the lake.
Lumbini Park: This park is well-known for the boats, the lake and the beautiful fountain show. The show shows historical and cultural parts of Hyderabad's history, current and prospect at 7,15pm regularly apart from Mondays. Lumbini Park is near to NTR Gardens on necklace road.
The park is open from 9 am to 9 pm on a daily basis.