Willing to explore Hyderabad? Hyderabad is one of the popular tourist destinations with heritage monuments, museums. Here are the best places to visit in Hyderabad.
CHARMINAR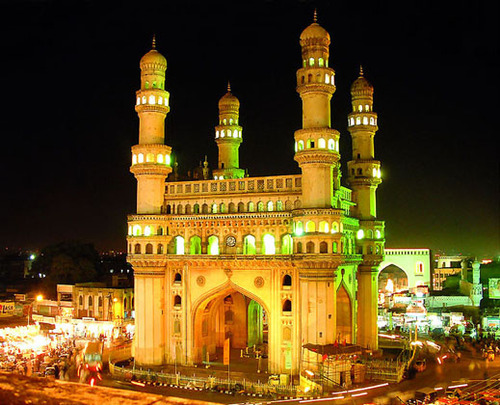 Charminar is a prominent landmark in Hyderabad. Charminar the name itself tells it has four minarets. It is constructed in 1591, is a monument and mosque located in Hyderabad, Telangana, India. It is ionic 16th century mosque with 4 arches and 48m tall minarets.

GOLCONDA
Golkonda, also known as Golconda, Gol konda, or Golla konda, is a citadel and fort in Southern India and was the capital of the medieval sultanate of the Qutb Shahi dynasty, is situated 11 km west of Hyderabad.

RAMOJI FILM CITY
The Ramoji Film City in India is located in Hyderabad. At 2000 acres, it is the largest integrated film city in Telangana and the largest studio complex in the world.

SALAR JUNG MUSEUM
The Salar Jung Museum is an art museum located at Darushifa, on the southern bank of the Musi River in the city of Hyderabad. It is one of the three National Museums of India.

NEHRU ZOOLOGICAL PARK
Nehru Zoological Park is a zoo located near Mir Alam Tank in Hyderabad. It is one of the most visited destinations in Hyderabad.

BIRLA MANDIR
Birla Mandir is a Hindu temple, built on a 280 feet high hillock called Naubath Pahad on a 13 acres plot. The construction took 10 years and was opened in 1976 by Swami Ranganathananda of Ramakrishna Mission.

Check the latest Places to visit in Hyderabad with your family or friends and enjoy your day!